A Word from Our President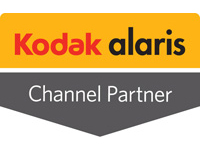 At the Kodak Alaris 2014 Annual Partner Conference, ProConversions earned the 2013 "Most Creative Performance" Award in Production Scanners. I'm thankful for the opportunity to meet with Dolores Kruchten, Russell Hunt, Sophia Marchi, and Ralf Gerbershagen, and honored to win this award. I believe the current Kodak Alaris management team is the best core group of executives in the industry and if they bear down right now, they have an opportunity to do it right the first time. As a billion dollar start-up, the Kodak executive team is eliminating red tape and obstacles to the channels success.
I will deliver on my commitment to grow ProConversions Corp around Kodak solutions over the coming years and we're making investments now that will allow us to be the go to full solutions provider for Kodak Software & Professional Services for many years to come. Thank you again for the exciting and content-packed Kodak Alaris Partner Conference and I look forward to the launch of the new Kodak Alaris logo and business branding. The new name, "Connected Intelligence," aligns very well with what we're trying to accomplish here at ProConversions.
Other Kodak Alaris Conference Highlights
The Kodak SCANMATE i1150 is launched: a scanner designed for customer-facing situations where an employee needs to quickly and efficiently scan documents and ID cards as part of a business process using "transaction mode" which boosts the scanner's performance by 60% for the first 10 pages, equating to 40 pages per minute (PPM)
The Kodak i3250 and i3450 are launched: scanners with an integrated book-edge A4 flatbed designed to handle all kinds of exception documents, including book pages, passports, folders, and fragile documents
Kodak Info Input is launched: a browser-based capture application that minimizes costs associated with proprietary capture solutions, while being secure, scalable, centrally managed, and easily deployed and supported
Other new Kodak scanners: we also got the scoop on the new Kodak i1580 as well as next generation i4000 and i5000 series scanners
Contact us to learn more about new Kodak Alaris scanners and software